Determining a Sargent Bench Plane vintage. Type 2 & 3.
Types: Type 1, Type 2 and 3, The 540x Series,  Type 4, Type 5, Type 6, Type 7, Type 8.
A few years ago I got hooked on Sargent bench planes. It started when I picked up a #15, not even knowing what I had bought. I paid $5 for it. I've been buying these, not so much as users (although they make good users) but as a collector. If you're into Sargent planes, you know David Heckel wrote the book on Sargent planes. Its the closest thing to a type study I can find, but I found it pretty confusing at times.
My plan is to change and add to this blog series whenever I dig up new info. Please feel free to contribute, send any photos or comments to timetestedtools at hotmail dot com or post below. It'll be under constant construction and I don't plan to try to write it all at once, so stop back often.
Some other good references come from here   http://lumberjocks.com/topics/47190
What I would like to do, is try to eliminate some of the confusion, and through the course of time, see if I can come up with some additional information not found in the book.
If you don't have the book, I suggest you buy it. Its relatively inexpensive and covers a lot more than the bench planes. At this point, this blog will only be in regards to the 400 series of bench planes which includes the 540x series as well..
Unlike all Stanley type studies, for some reason Heckel did a separate study on the irons and another on the caps, which seems to add to my confusion, at least at first. So you'll need to match dates, not types of these with the bench planes. For example a type 1 iron, is typically on a type 1 and type 2 400 series plane.
Another form of confusion is the way Sargent did the type 2 and 3 laterals. The patent date is the same for both the first and second type lateral. They were issued the same day Feb 3rd 1891. So they may have been used in tandem, which gets confusing. For example, even though the 5400 series went to 1909, the 5400 series all had horseshoe laterals, even though the 400 series went from a type 2 (horseshoe lateral) to a type 3 (pivot lateral). Note both have the twisted end.
Here is the horseshoe Lateral. The first one they used and the second photo is the pivot lateral, the second lateral  they used.
The type 1 .
It should be fairly easy to recognize. Its a pre-lateral. They were made from 1887-1890   (here is my #1)
Screws are round headed.
Marked Sargent Co. and number behind the frog
Brass cutter adjuster is solid brass and right handed threads.
No logo on the cap.
Rosewood for knob and tote.
At this point I don't believe any of these were corrugated, so if you have a corrugated pre-lateral, I'd like to hear about it.
The type 2.
These were made from 1891-1901
Type 2 will have the horseshoe Lateral. The first lateral they used.
The bottom plane is the casting off what I believe is a type 2 #422, but this configuration was used until about 1906.
The top plane, a type 3.
Types 1,2 and 3 typically had the number and a dot on the back of the cap.
Brass cutter adjuster is solid brass and right handed threads.
No logo on the cap.
Rosewood for knob and tote.
The type 3.
These were made from 1891-1909
Yes I know, confusing. Both the type 2 and type 3 start the same year, but the type 2 ends earlier.
And the pivot lateral, the second one they used.
The type 3 may have a solid brass cutter adjuster or one with the steel insert
And some reprint comparisons from HMikes thread.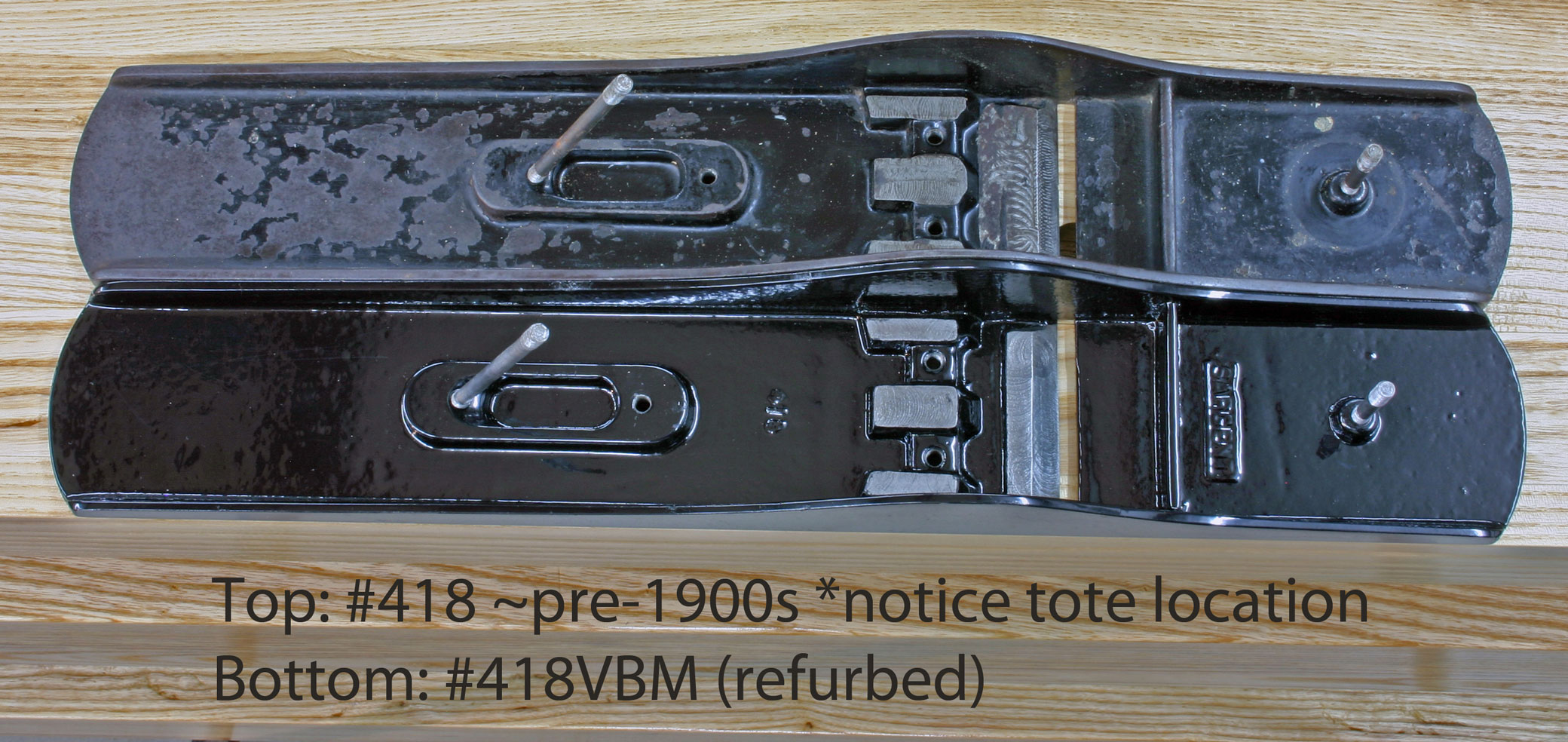 And my attempt at a timeline.
Dates
400 Series Bench Planes Type
Lateral
Cutter Type
Cap
Wood type
Corrugated
Notes
1887
Type 1
None
Type 1
Type 1
rosewood
1888
Type 1
None
Type 1
Type 1
rosewood
1889
Type 1
None
Type 1
Type 1
rosewood
1890
Type 1
None
Type 1
Type 1
rosewood
1891
Type 2 & 3
Type 1 & 2
Type 1
Type 1
rosewood
1892
Type 2 & 3
Type 1 & 2
Type 1
Type 1
rosewood
1893
Type 2 & 3
Type 1 & 2
Type 1
Type 1
rosewood
1894
Type 2 & 3
Type 1 & 2
Type 1
Type 1
rosewood
1895
Type 2 & 3
Type 1 & 2
Type 1
Type 1
rosewood
1896
Type 2 & 3
Type 1 & 2
Type 1
Type 1
rosewood
1897
Type 2 & 3
Type 1 & 2
Type 1
Type 1
rosewood
1898
Type 2 & 3
Type 1 & 2
Type 1
Type 1
rosewood
1899
Type 2 & 3
Type 1 & 2
Type 1
Type 1
rosewood
1900
Type 2 & 3
Type 1 & 2
Type 1
Type 1
rosewood
1901
Type 2 & 3
Type 1 & 2
Type 1
Type 1
rosewood
1902
Type 3
Type 1 & 2
Type 2
Type 2
rosewood
1903
Type 3
Type 1 & 2
Type 2
Type 2
rosewood
1904
Type 3
Type 1 & 2
Type 2
Type 2
rosewood
1905
Type 3
Type 1 & 2
Type 2
Type 2
rosewood
1906
Type 3
Type 1 & 2
Type 2
Type 2
rosewood
1907
Type 3
Type 1 & 2
Type 2
Type 2
rosewood
Started 5400
Cutter adjuster with   steel insert on type 3 only
1908
Type 3
Type 1 & 2
Type 2
Type 2
rosewood
5400
Cutter adjuster with   steel insert on type 3 only
1909
Type 3
Type 1 & 2
Type 2
Type 2
rosewood
5400
Cutter adjuster with   steel insert on type 3 only
1910
Type 3
Type 1 & 2
Type 3
Type 3
East India Mahogany
"C"
Dates
400 Series Bench Planes Type
Lateral
Cutter Type
Cap
Wood type
Corrugated
Notes
1911
Type 4
Type 3
Type 3
Type 3
East India Mahogany
"C"
Type 4 have steel cutter   adjusters
1912
Type 4
Type 3
Type 3
Type 3
East India Mahogany
"C"
1913
Type 4
Type 3
Type 3
Type 3
East India Mahogany
"C"
1914
Type 4
Type 3
Type 3
Type 3
East India Mahogany
"C"
1915
Type 4
Type 3
Type 3
Type 3
East India Mahogany
"C"
1916
Type 4
Type 3
Type 3
Type 3
East India Mahogany
"C"
1917
Type 4
Type 3
Type 3
Type 3
East India Mahogany
"C"
1918
Type 4
Type 3
Type 3
Type 3
East India Mahogany
"C"
1919
Type 5
Type 3
Type 4
Type 4
East India Mahogany
"C"
1920
Type 5
Type 3
Type 4
Type 4
East India Mahogany
"C"
1921
Type 5
Type 3
Type 4
Type 4
East India Mahogany
"C"
1922
Type 5
Type 3
Type 4
Type 4
East India Mahogany
"C"
1923
Type 5
Type 3
Type 4
Type 4
East India Mahogany
"C"
1924
Type 5
Type 3
Type 4
Type 4
East India Mahogany
"C"
1925
Type 6
Type 3
Type 4
Type 4
Any Mahogany
"C"
1926
Type 6
Type 3
Type 4
Type 4
Any Mahogany
"C"
1927
Type 6
Type 3
Type 4
Type 4
Any Mahogany
"C"
1928
Type 6
Type 3
Type 4
Type 4
Any Mahogany
"C"
1929
Type 6
Type 3
Type 4
Type 4
Any Mahogany
"C"
1930
Type 6
Type 3
Type 4
Type 4
Any Mahogany
"C"
1931
Type 6
Type 3
Type 4
Type 4
Any Mahogany
"C"
1932
Type 6
Type 3
Type 4
Type 4
Any Mahogany
"C"
1933
Type 6
Type 3
Type 4
Type 4
Any Mahogany
"C"
1934
Type 6
Type 3
Type 4
Type 4
Any Mahogany
"C"
1935
Type 6
Type 3
Type 4
Type 4
Any Mahogany
"C"
1936
Type 6
Type 3
Type 4
Type 4
Any Mahogany
"C"
1937
Type 6
Type 3
Type 4
Type 4
Any Mahogany
"C"
1938
Type 6
Type 3
Type 4
Type 4
Any Mahogany
"C"
1939
Type 6
Type 3
Type 4
Type 4
Any Mahogany
"C"
1940
Type 6
Type 3
Type 4
Type 4
Any Mahogany
"C"
1941
Type 6
Type 3
Type 4
Type 4
Any Mahogany
"C"
My Type 6 has Brass   cutter adjustment nut and Brass knob and tote nuts
Dates
400 Series Bench Planes Type
Lateral
Cutter Type
Cap
Wood type
Corrugated
Notes
1942
Type 7
Type 3
4 & 5
4 & 5
Any Mahogany
"C"
1943
Type 7
Type 3
Type 5
Type 5
Any Mahogany
"C"
1944
Type 7
Type 3
Type 5
Type 5
Any Mahogany
"C"
1945
Type 7
Type 3
Type 5
Type 5
Any Mahogany
"C"
1946
Type 7
Type 3
Type 5
Type 5
Any Mahogany
"C"
1947
Type 7
Type 3
Type 5
Type 5
Any Mahogany
"C"
1948
Type 7a
Type 3
Type 5
Type 5
Hardwood
"C"
1949
Type 7a
Type 3
Type 5
Type 5
Hardwood
"C"
1950
Type 7a
Type 3
Type 5 & 6
Type 5 & 6
Hardwood
"C"
1951
Type 8
Type 3
Type 6
Type 6
Hardwood
"C"
1952
Type 8
Type 3
Type 6
Type 6
Hardwood
"C"
1953
Type 8
Type 3
Type 6
Type 6
Hardwood
"C"
1954
Type 8
Type 3
Hardwood
"C"
1955
Type 8
Type 3
Type 7
Type 7
Hardwood
"C"
1956
Type 8
Type 3
Type 7
Type 7
Hardwood
"C"
1957
Type 8
Type 3
Type 7
Type 7
Hardwood
"C"
1958
Type 8
Type 3
Type 7
Type 7
Hardwood
"C"
1959
Type 8
Type 3
Type 7
Type 7
Hardwood
"C"
1960
Type 8
Type 3
Type 7
Type 7
Hardwood
"C"
1961
Type 8
1962
Type 8
1963
Type 8
1964
End of plane production